Judges/Officials info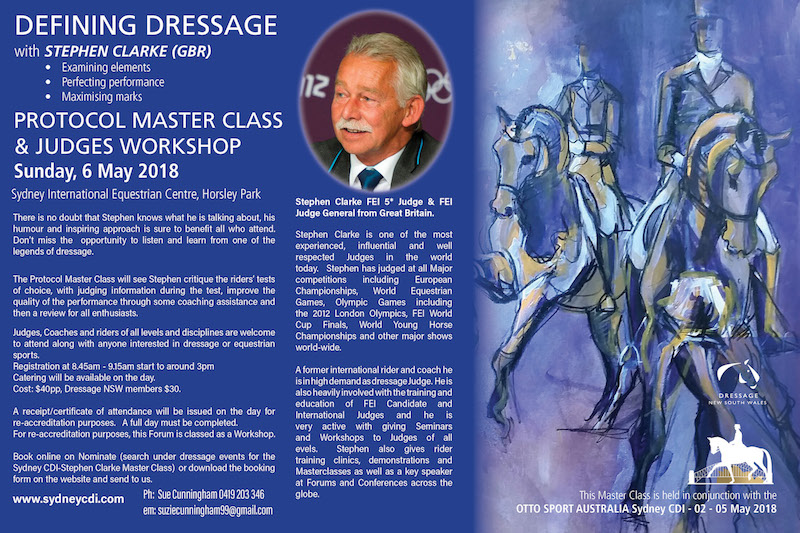 More info and booking information for the Stephen Clarke Masterlass & Workshop [Here]
Contacts:
News:
Judges Lists: 
If you would like the spreadsheet in Excel, please contact Tracey Lesslie 

 

[email protected]

Only judges who appear on the current list may judge Official Competitive & Participation competitions. All judges must be current financial members of EA.
Judges who have a query about why their name does not appear on the current list, please contact the EA office 02 8762 7709.
Seminars and Workshops
6/5/18:  Stephen Clarke Workshop - here
National Calendar of Seminar, Workshops, Exams as at 1/3/18 [Here]
Funding for Officials
Equestrian NSW has allocated funding to Dressage NSW for support of officials to gain/update/maintain their Officials status. Officials who incur expenses to attain accreditation, upgrade their accreditation or attend courses to retain their official status may apply to Dressage NSW for funding. Conditions apply and not all applications may fit the guidelines. Please read the guidelines before lodging an application.

2016_2017_Funding_application_Support_Officials.docx (Word doc Form and guidelines)  PDF copy: 2016_2017_Funding_application_Support_Officials.pdf

NSW Sport and Rec have funding available from time to time (eg. Women in Sport programme). Further information will be published here as it becomes available.
New Judges
How to become a dressage Judge G to E Level:  How_to_Become_a_Dressage_Judge(G-E)-2016edition.pdf
How to become a dressage Judge D to A Level: How_to_Become_a_Dressage_Judge(D-A)-2016edition.pdf
Dressage Judges additional options pathways: How_to_Become_a_Dressage_Judge_(Additional options)-2016edition.pdf
New judges please contact Julie Jones, DNSW, G level Judge Coordinator on 0410 405 505 or email

[email protected]

For more information on becoming a Judge, please refer to the EA Dressage Rule book and EA Workbooks for details and requirements.
FEI riders fast tracking to become a judge (NOAS Coaches and FEI riders) refer EA FEI Riders Accelerated entry Scheme
Other enquiring about Judging or upgrading, contact your level co-ordinator
Accreditation & Upgrading
Club info for Organising Seminars and Workshops
General
Other Links