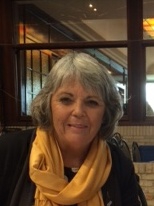 Sue Cunningham promoted to FEI 5* Para Equestrian Judge
It gives us great pleasure to advise that Sue Cunningham has recently been awarded a promotion to FEI PE5* judge, as well as FEI Course Designer (similar to our Judge Educator) for international FEI PE judges.  
In addition, Sue has also been appointed the travelling reserve judge for the 2018 World Equestrian Games in Tyron, Carolina (USA). 
We spoke to Sue about her journey to becoming a 5*Judge; 
I had been encouraged to judge para dressage by Judy Cubitt and Carolyn Lieutenant and had been doing so nationally for some years before taking on the challenge of becoming a 3* judge in 2010 with exams in Hartpury, UK.  I was promoted to 4* in 2013 and then in 2014 I was invited to join the FEI Para Equestrian Technical Committee representing the interests of those countries other than UK and Europe. I was given the task of writing the new para dressage tests which are being used this year for the first time and will be ridden at WEG and the Paralympics in Tokyo. These tests were written with a German colleague, Marco Orsini and took the best part of 12 months to complete. 
While attending the second Para Forum, this year in The Cotswolds in the UK, the FE PE committee promoted me to 5* status and then asked me to be the travelling reserve judge for WEG in Tyron in Carolina next year. And, just as exciting, I was asked to be an International Course Designer for Para Dressage judges, a role similar to that of our Judge Educators but on an international level. It certainly felt like I had won the lottery - very humbling but also very exciting. 
My para career to date has led me to judge in the UK, Germany, Belgium, Qatar, NZ and continues to provide amazing opportunities, now including WEG. I feel very privileged to have been on this committee which has enabled me to make a significant contribution to the sport of Para Dressage and pursue my judging not only all over Australia but internationally.
Congratulations Sue on this significant achievement! Without doubt a well deserved recognition of your hard work for Para Equestrian over a number of years.
It's great to have another Australia 5* judge on the world stage and even better, one from NSW!