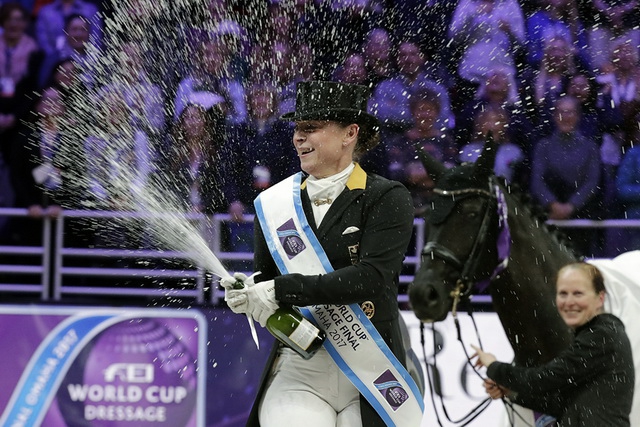 (Jim Hollander/FEI)
Wonderful Werth and Weihegold take World Cup Dressage title by storm
By Louise Parkes
When she's got her game face on, you ain't messin' with this lady. But this evening the sometimes seriously scary world no. 1, Germany's Isabell Werth, really let her hair down during the prizegiving ceremony after clinching her third FEI World Cup™ Dressage title in Omaha (USA). Drenching American runner-up Laura Graves (29) and third-placed British star Carl Hester (49) in a fountain of champagne she celebrated big-time on the podium.
"It's special to win again after ten years, to come back with a different kind of horse and after a really great season. I'm very happy and I'm also thankful, because I know what it's like to be downstairs, and I'm really happy and grateful to be upstairs again!"
Werth has indeed experienced all the highs and lows that accompany a long and extraordinarily successful career.
The undisputed doyenne of the sport, and the most decorated equestrian athlete of all time, was last into the arena and chasing Graves' target score of 85.307 with Verdades. The American created a frenzy of excitement when finishing her test with a spine-tingling extended trot - "I wanted to add a little surprise today and I think it paid off, and the crowd loved it!" she said after raising the roof of the Centurylink Centre.
But Werth and the mare with which she claimed Olympic team gold and individual silver at the Rio Olympics just cruised through a fabulous Freestyle full of grace, poise and elegance for the winning mark of 90.704. Hester too was happy with third place. "I think he gave his maximum so I can't be disappointed when he did his absolute best" he said of his horse Nip Tuck who scored 83.757. 
Full results:  here
Facts and Figures:
Germany's Isabell Werth won the FEI World Cup™ Dressage 2017 title for the third time in her illustrious career today. Her previous wins were in Gothenburg (SWE) in 1992 with Fabienne and in Las Vegas (USA) in 2007 with Warum Nicht FRH.
14 riders from 11 nations (Argentina, Australia, Brazil, Denmark, Germany, Great Britain, Ireland, Netherlands, Russia, Switzerland and USA) competed in today's Freestyle at the FEI World Cup™ Dressage 2017 Final in Omaha (USA).
The first man to win the title was Germany's Sven Rothenberger, with Andiamo in 's-Hertogenbosch NED in 1990 - female riders have otherwise dominated the top step of the podium.
The first athlete to compete for Argentina at the FEI World Cup™ Finals is Maria Florencia Manfredi riding Bandurria Kacero who finished in 13th place.
The Netherlands has recorded the greatest number of wins in the series with a total of 13. German riders have taken the title 9 times while competitors from USA and Switzerland have each won it twice.
The Freestyle to Music is the most popular Dressage competition with the public, and was first introduced in 1986.
Isabell Werth GER - 1st 
Talking about the performance of her horse Weihegold - "I knew her day could be today, and Laura pushed me to show what we could do, I'm so happy! Tonight we'll definitely have a party!" 
Laura Graves USA - 2nd
"I didn't realise how badly I wanted to win. I said on Thursday I'd give it a run for the money, and today I thought Oh I want that so badly, but finishing second to the no. 1 in the world still feels a lot like winning. This is my first time on a podium as an individual and that was very special. I won't forget it, that's for sure!"
Carl Hester GBR - 3rd
"Nip Tuck is so thin because he hasn't eaten for a week. He's really missing Valegro who he'd normally be travelling with and when he's not there he frets. He has no-one to grab hold of but he'll have to get used to it. He's been eating hay at least, but you need some petrol to do these competitions. Alan (his groom) has had to hand-feed him for the last few days."