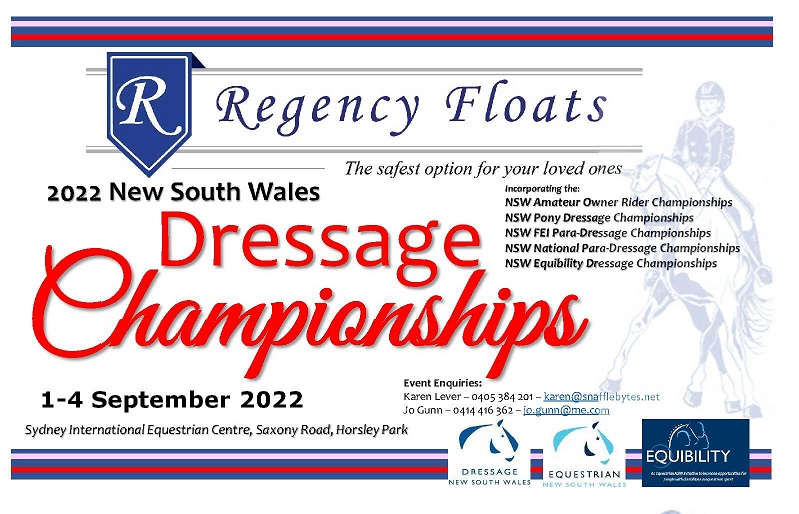 Welcome Regency Floats as this year's 2022 NSW Dressage Championships Naming Rights Sponsor
2022 Regency Floats NSW Dressage Championships
Dressage NSW is delighted to have Regency Floats as this year's NSW Dressage Championships Naming Rights Sponsor!
Regency Floats is originally a UK based family owned company formed more than 40 years ago, specialising in the supply of quality Horse Floats. Regency Floats pride themselves on providing high quality, well appointed, safe horse floats at realistic prices.  Having our own dedicated workshop at our Vineyard location, we ensure every Regency float heads off to it's new home in pristine condition, ready for it's working life.  
Regency Floats only use reinforced interlocking aluminium floors which will not rot unlike other floats using timber, ply or similar type flooring.  There are additional steel chassis supports and plates where the horses stand to ensure safety.  The entire under floor is then wax sealed to prevent corrosion.  Mated to the aluminium floor is 18mm thick, one piece anti slip rubber which is sealed at edge to prevent contaminants from reaching the floor, this rubber also covers the rear ramp.  The inner side walls are protected by 8mm thick rubber padding, which comes up to the barriers to protect the float walls.  Regency Floats strive to ensure the safety and comfort of your precious animals.
For more details check out their website.
https://www.facebook.com/www.regencyfloats.com.au
(02) 4666 0202 | 0438 980 595
Unit 4/2 Rob Place Vineyard - NSW 2765