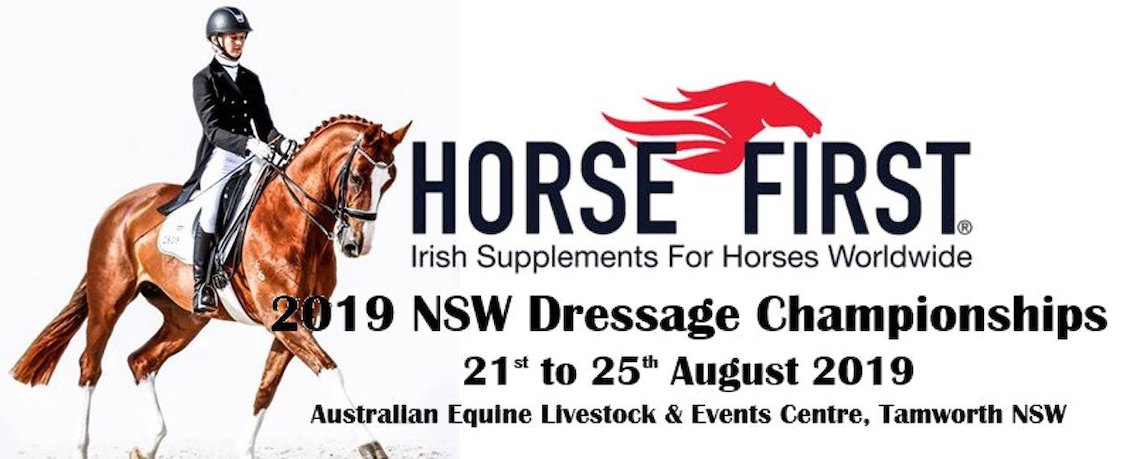 Tamworth Dressage Club to host 2019 NSW Dressage Championships
Tamworth Dressage Club is delighted to once again be hosting the NSW Dressage Championships at the international standard Australian Equine Livestock and Events Centre in Tamworth.

The Horse First 2019 NSW Dressage Championships will be held over five days from Wednesday 21st to Sunday 25th August. Over 250 horses and 200 riders entered the Championships in 2018 making this event the largest Dressage Championship event of its type to be held in NSW.

Following on from previous successful Championships, an all-inclusive programme will be offered and in addition to the Open Division separate competitions for Amateur Owner Riders, Ponies and Para-Dressage will be featured.

Over 200 competitors plus owners and helpers from around NSW and Interstate are expected to take part in a wide programme of competitions from Preliminary level through to Grand Prix.

Competitions will be held outdoors in the recently installed international standard Ebb & Flow arenas as well as in AELEC's Indoor Arena.

These Championships will attract spectator interest from equestrian enthusiasts and the general public. Admission is free to spectators on all days.

The highlight of the Championships will be the Grand Prix Freestyle on Sunday morning from 10am to 1pm where the fifteen highest ranked horse and rider combinations will dance their set of prescribed dressage movements to the music of their choice. Spectators are invited to come and enjoy this event from the comfort of a front row seat whilst enjoying a delicious High Tea.
Book tickets for Grand Prix Freestyle High Tea [click here for bookings]
The Club needs your help!!
We're excited to be able to bring the 'States' to the country and offer regional competitors a more accessible opportunity to compete, however we are acutely aware that the ongoing drought conditions will have a real impact on the affordability of this event. Both regional competitors as well as regional businesses are doing it tough and are feeling the pinch.
 
As an organizing committee we're committed to finding a happy medium between ensuring the event is viable as well as affordable. We feel a great responsibility to keeping the entry fees to a minimum so that everyone has the best possible chance of being able to participate!!
 
As part of our wonderful championships will be a trade village, right in the heart of AELEC and more importantly on the door steps of our competitors at the front of the stable blocks. We feel this will be a great fit not only to create a friendly shopping atmosphere to riders, traders and visitors but to also to take full advantage of the beautiful outlook of AELEC in the sunshine.

Please consider supporting our States as a sponsor, a trader or by making a donation.  There are still a variety of opportunities left to get involved!