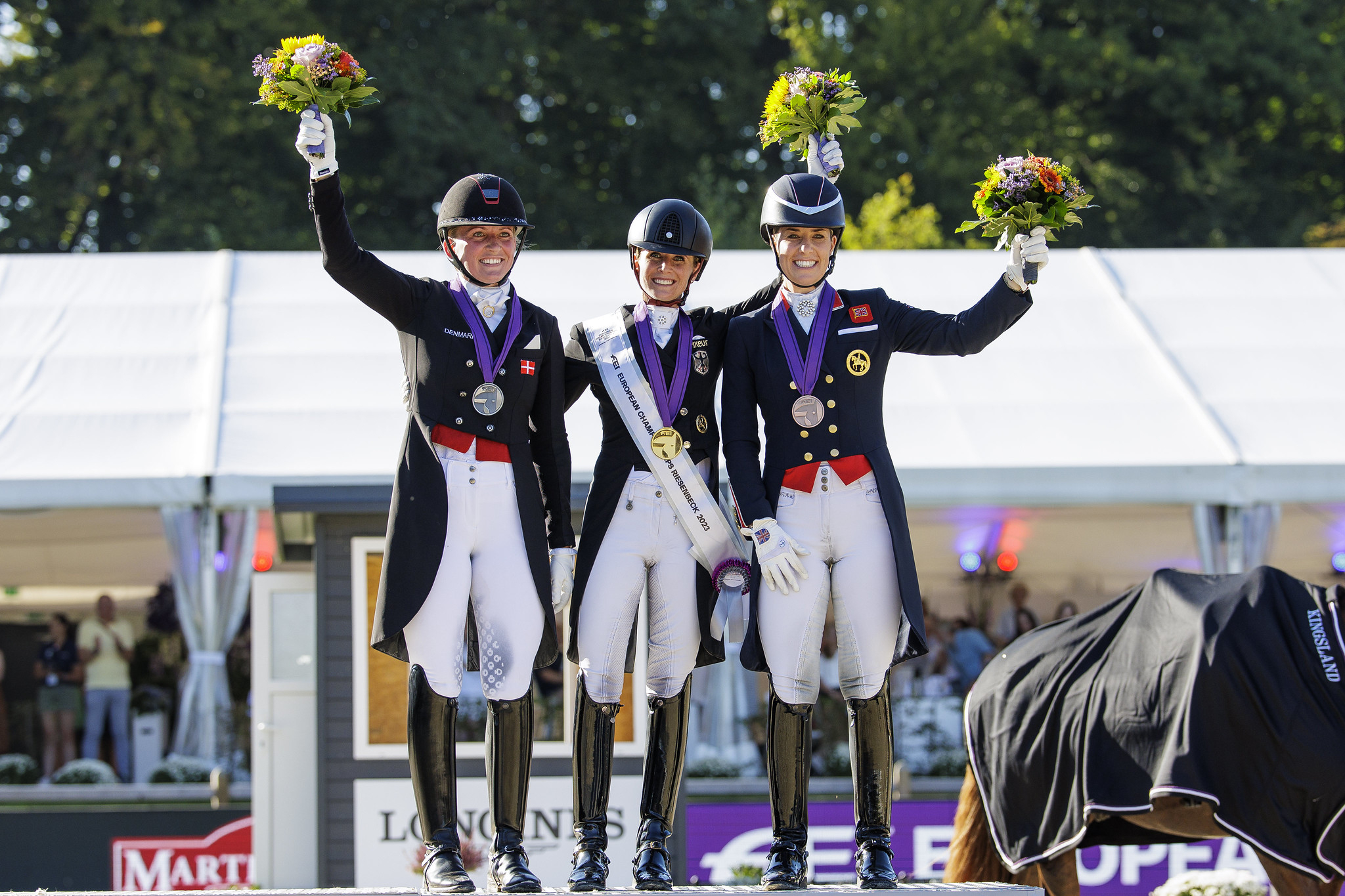 FEI/Leanjo de Koster
Freestyle victory for Von Bredow-Werndl brings thrilling Championship to a close
Photo: On the podium for today's Freestyle at the FEI Dressage European Championship 2023 in Riesenbeck (GER): (L to R) silver medallist Lottie Fry (GBR), gold medallist Jessica von Bredow Werndl (GER) and bronze medallist Charlotte Dujardin (GBR) bronze. 
FEI Dressage European Championship 2023
Riesenbeck (GER)
By Louise Parkes
Germany's Jessica von Bredow-Werndl and TSF Dalera BB reclaimed the Freestyle title they won 12 months ago on the thrilling closing day of the FEI Dressage European Championship 2023 in Riesenbeck (GER) today.
In the months leading up to the event, speculation was rife about the clash of the sport's giants and the emergence of many new stars, but the expected fire-works didn't materialise earlier in the week. 
Today however the reigning individual World championship duo of Great Britain's Lottie Fry and the fabulous stallion Glamourdale pushed the reigning Olympic and defending European champions von Bredow-Werndl and her magical mare all the way to the line to take silver, while fellow-Briton and triple Olympic gold medallist Charlotte Dujardin stepped up to bag the bronze with Imhotep.
Much-anticipated
A total of 18 combinations lined out in this much-anticipated final test of the week, and it was Germany's Frederic Wandres and Bluetooth OLD who led the way at the halfway stage with a score of 84.568. That might have been a great deal higher however if he hadn't forgotten part of his floor-plan. Riesenbeck is in the heart of German horse country and the super-sharp spectators immediately realised something wasn't right when he did a few steps of half-pass before riding down the centreline to finish. 
"I had a brain-stop!", he said afterwards, filled with emotion because he had omitted some of his half-pass and was trying to fit it in before finishing his test. "It was absolutely not a horse mistake, it was completely on my side!", he pointed out.
When the action restarted the riders were playing leap-frog with each one overtaking the one that went before, and the crowd showed their everlasting adoration for their own Isabell Werth who was greeted with a frenzy of sound when she steered DSP Qantaz to the new leading score of 88.407. Two horses later however Denmark's Nanna Skodborg Merrald and Blue Hors Zepter, silver medallists in Friday's Grand Prix Special, raised the bar even higher when putting 89.546 on the board with a super-smooth performance.
There were just four left to go now, and it seemed very possible that the Dane, a member of last year's World Championship gold medal winning team, would finish on the podium again.
Uncharacteristic
Then von Bredow-Werndl set off for a test that was filled with seamless transitions and showered with maximum marks of 10, but it wasn't without an uncharacteristic mistake in the one-tempi changes. The pair still stayed in tune with each other to the very end, when the scoreboard showed a colossal 92.818 for the new lead. It didn't seem likely any of the rest could come anyway close to that. But Fry and Glamourdale did.
The stallion was on fire today, much more like the super-steed who wowed the spectators at the World Championship in Herning (DEN) last summer when he carried Fry to victory in both the Grand Prix Special and Freestyle. Heavenly half-passes and lovely piaffe/passage saw the scores piling up despite a mistake when picking up the canter lead for the first time. The crowd held their breath while the score was being calculated, and although 92.379 was just short of von Bredow-Werndl's target the knowledgable spectators roared with approval because they knew they had seen something very special once again.
The penultimate partnership of Britain's Carl Hester and Fame put 85.461 on the board before Dujardin, last into the ring, did what she does best. It didn't seem possible that a 10-year-old horse with no real experience could withstand the pressure, the noise, the tension in the arena that was now like a cauldron of excitement. But he did, overtaking Skodborg Merrald's Zepter for bronze medal spot when earning 91.396 for a wonderful test. It was the perfect end to a wonderful week of sport.
Biggest buzz
"For me it's the biggest buzz to go out there to a full crowd. When you're warming up all you can hear is clapping, cheering, screaming, stamping feet, and it's so exciting for our sport and us riders to have"
Charlotte Dujardin GBR
"I was just delighted to start and finish, he'd never had anyone clapping through his test and I was thinking they are clapping and I'm not even close to home! But he's just incredible, he takes everything in his stride and I'm just so excited for next year. I had a baby six months ago and I didn't think I'd be here this year. I kind of ruled out the Europeans and was aiming at Paris next year and here I am at the end of the week with one gold medal and two bronze medals. I can't ask for more. It's been a great week for me and for Dressage!", Dujardin said.
All-the-more extraordinary was the fact that she was only riding her floorplan and music created by Tom Hunt for the very first time. She only started putting it together a few weeks ago and she had no idea how it would work out. The music is from the film "Madagascar" because apparently Imhotep, aka Pete, looks just like Alex the Lion when his mane is loose. 
Asked how she is feeling this evening after a super-close race to the finish line today, Fry replied "I guess I feel a little relief that we are back on the podium, but mainly just excitement and super happy. The feeling that he gave me in there today was that we are really back on track. The first two tests (this week) maybe weren't what I had hoped they would be, but today it was the most incredible feeling and I'm a bit speechless to be honest!" 
She said she was trying to reproduce the best parts from her Grand Prix and Special tests from earlier in the week. "Glammy also had a day off yesterday, it's been very hot for him, and today he was fresh but he was concentrated. The first day here he was fresh and slightly distracted and the second day he was slightly tired, so today we got the perfect mix and it was such an amazing feeling and I couldn't be more happy", she explained.
Defence
Meanwhile von Bredow-Werndl reflected on her magnificent defence of both individual titles this week. "This is the success of a huge amount people, not only me. Today the big feeling is just gratefulness. Dalera only hand-walked yesterday and she was full of power and energy again today", she explained. 
"It was my goal to come here and defend as many titles as possible!"
Jessica von Bredow-Werndl GER
she continued. "I gave my very best for the team (Germany finished in team silver medal spot) but at the end the ladies next to me, and the men next to them, were better, so we have more work to do before Paris to make it more difficult for them!" she pointed out.
Asked about coming up against Fry and her stallion for the first time this week she said "I was prepared to meet her in Omaha, or in Aachen, and I was just finally happy to meet her here! I'm focusing on myself and Dalera and I'm happy we had great sport and other riders coming up, but this pushes me to train better, more precisely and to keep on improving". 
There's no doubt that this week's close competition has firmly focused minds on next year's Olympic Games. With the 2023 European titles now decided it's all eyes on Paris 2024. And Fry still has her eyes on the big prize.
"I don't want to put too much pressure on for next year but it does make everybody super-excited when we were so close today, having small mistakes but that makes it even more exciting because we both know (Fry and von Bredow-Werndl) we can be better! And we shouldn't under-estimate Charlotte or Nanna for next year, or Isabell (Werth) so I think we are going to have a year to work on a lot of things and Paris is going to be really exciting!"
If it is anything like the FEI Dressage European Championship 2023 at Riesenbeck this week it's going to be a thriller from start to finish…..