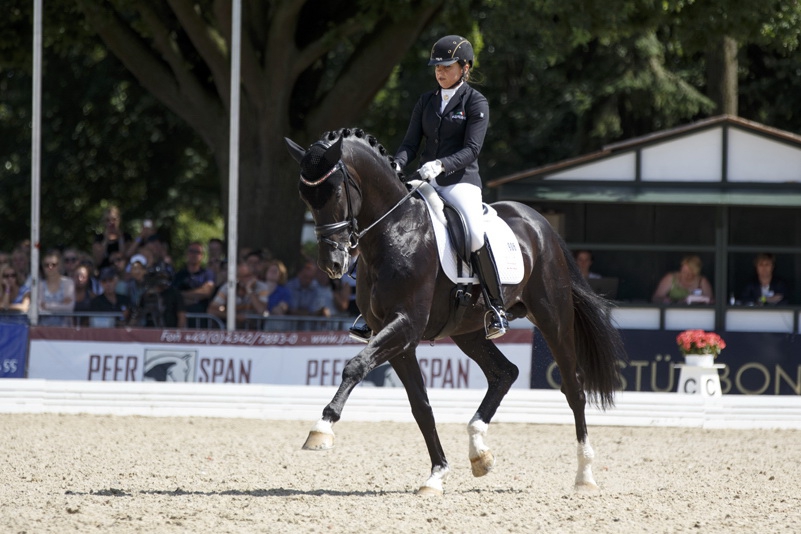 FEI/Dirk Caremans
FEI World Breeding Dressage Championships for Young Horses 2015
Photo: A year after winning the 5-Year-Old title, Sezuan, ridden by Germany's Dorothee Schneider, returned to the FEI World Breeding Dressage Championships for Young Horses 2015 at Verden, Germany to top the 6-Year-Old category at the weekend. 
Verden (GER), 10 August 2015
Fiontini takes 5-Year-Old title while Sezuan returns to top the 6-Year-Olds
By Louise Parkes
The Danish warmblood mare, Fiontini, topped the 5-Year-Old division while last year's 5-Year-Old champion, the brown-black Danish stallion Sezuan 2, clinched the 6-Year-Old title this time around at the FEI World Breeding Dressage Championships 2015 which drew to a close at Verden, Germany yesterday.  
Once again the event was staged within the framework of the International Dressage and Jumping Festival, and many of the sport's top riders brought their future stars to measure and compare their progress and potential over the five-day fixture.
Five-Year-Olds
With Spain's Severo Jesus Jurado Lopez in the saddle, the Fassbinder x Romanov Blue Hors mare Fiontini set out on the road to success with victory in the 5-Year-Old qualifier on Thursday. Scoring 9.48, the pair earned the only maximum 10 awarded in the competition when judges Susanne Baarup (DEN), Annette Fransen Iacobaeus (SWE), Andrew Gardner (GBR) and Liselotte Fore (USA) were hugely impressed by the mare's trot, while canter was rewarded with a significant 9.8.
The Netherlands' Kristen Brouwer lined up second here with Five Star 2 (Amazing Star x Jazz) who posted a mark of 9.44 while fellow-Dutch competitor Marieke van der Putten scored 9.32 with another KWPN stallion, Four Legends, (Wynton x Ferro). Fourth place went to Vera Nass with the Hannoverian stallion Quantensprung 3 (Quando x Donnerhall) and next in line was fellow-German Ann-Christin Wienkamp and the Oldenburg stallion Sir Olli (Sir Donnerhall l x Florestan) who posted 8.98. A total of 42 talented young horses started in this competition, but only the top 12 qualified for Saturday's 5-Year-Old Final which was judged by Susanne Baarup (DEN), Eddy de Wolff van Westerrode (NED), Isabelle Judet (FRA) and Dr Dietrich Plewa (GER). 
And Fiontini rose to the occasion once again this time out, the imposing mare scoring 9.18 to pip another mare with the same genetic bloodline, Fiontina, who is also by Fassbinder and out of the mare Rapitala x Romanov Blue Hors. Both young horses were produced by embryo transfer and were carried by surrogate mares, and the sisters caused quite a stir at the Blue Horse Championships for Young Dressage Horses staged during the Danish Stallion Licensing last March where British superstar, Charlotte Dujardin awarded them with 10s. "However I would have preferred to award even higher marks such as 11 or 12 for their rideability - they are simply incredible!" Dujardin said at the time.
It was a significant improvement for silver medallists Fiontina and rider Andreas Helgstrand from Denmark who had lined up eighth in the qualifying round. They scored 9.02 on the final day, while Nass and Quantensprung took the bronze medal when 8.96.
"She was always concentrated on me and my aids, a super horse" said Severo Jesus Jurado Lopez of his winning ride.
Six-Year-Olds
Last year's 5-Year-old champion, Sezuan 2, threw down the gauntlet when he produced a big score of 9.52 to win the 6-Year-Old qualifier for Dorothee Schneider. Julia-Katharina von Platen lined up second here with the Hannoverian mare Danza ll (Dimaggio x Rubin-Royal) on a mark of 8.98 while yet another of the German contingent, Beatrice Buchwald, steered DSP Belantis (Benetton Dream x Expo'se) into third on 8.90. Schneider had a busy day, finishing fourth with Stanford 9 (Donnerhall x Diamon Hill) who posted 8.62, but there would once again be some reshuffling of the leaderboard when the top 15 returned on the final day.
Maria Colliander (FIN), Annette Fransen Iacobaeus (SWE), Andrew Gardner (GBR) and Liselotte Fore (USA) were in the judging positions once again for this, and they awarded the winning pair a full 10 for both canter and final impression to leave them with a final score of 9.72. Van Platen's Danza ll only managed a joint-seventh place this time out when DSP Belantis and Buchwald rose to silver medal spot, but the most dramatic movement on the scoreboard was the meteoric rise of last year's 5-Year-Old bronze medallists Kirsten Brouwer and Eye Catcher (Vivaldi x Partout) who rocketed up from ninth spot in the qualifying competition to third and bronze medal spot in the final analysis. Their score of 8.96 left them marginally ahead of Schneider with her second ride, Stanford.
Sezuan's tremendous back-to-back double of wins suggests great things for his future, and Schneider said "I have almost no words to describe it, but I am very happy and delighted!". The stallion, who was bred by Linette Jaeger, lives at the Stud Gestut Peterhof owned by Prof Edwin Kohl and Arlett Jasper-Kohl in Perl-Bord in south-west Germany and plans are being put in place to further his career. "Maybe the Nuremberg Cup, we will see. There is no doubt he is a horse for the big tour" Schneider said.
Madeleine Winter-Schulze and the stallion's breeder, Neustadt/Dosse National State Stud, are joint-owners of silver medallist DSP Belantis. "Everything was fantastic today!" said his rider, Beatrice Buchwald. And Kirsten Brouwer had plenty of reason to celebrate the much-improved performance of her KWPN stallion who rose to the occasion in the final test. "Our presentation on Friday was not that perfect, he didn't show what he usually shows. So I'm simply happy that he presented his super capabilities today" said the Dutch rider who will continue to partner this talented horse thanks to sponsors acquiring shares in the stallion. 
Results:
Five-year-old Championship:  GOLD - Fiontini (Severo Jesus Jurado Lopez) ESP 9.2; SILVER - Fiontina (Andreas Helgstrand) DEN 9.0; BRONZE - Quantensprung (Vera Nass) GER 9.0.
Six-year-old Championship:  GOLD - Sezuan 2 (Dorothee Schneider) GER 9.7; SILVER - DSP Belantis (Beatrice Buchwald) GER 9.5; BRONZE - Eye Catcher (Kirsten Brouwer) NED 9.0.