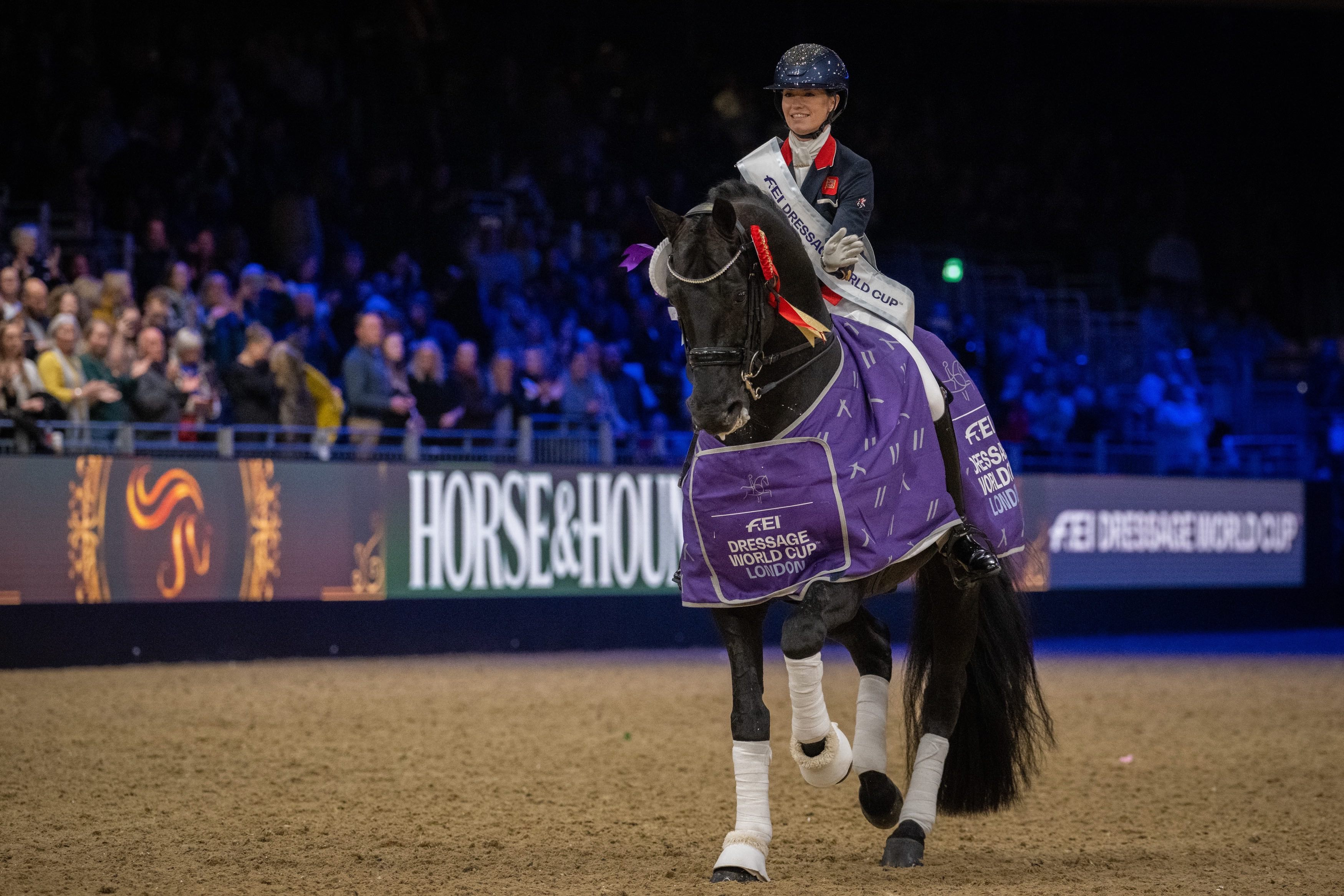 FEI Jon Stroud
Fabulous Fry and glorious Glamourdale are the show-stealers in London
Picture caption: Great Britain's Lottie Fry and the super-stallion Glamourdale stormed to victory in front of their home crowd at the fifth leg of the FEI Dressage World Cup™ 2022/2023 Western European League in London (GBR) tonight. 
By Louise Parkes
With their best-ever Freestyle score of 90.995, Great Britain's Lottie Fry and the super-stallion Glamourdale stormed to victory in front of their home crowd at the fifth leg of the FEI Dressage World Cup™ 2022/2023 Western European League in London (GBR) tonight.
The sensational duo who claimed individual double-gold and team silver at this summer's Blue Hors Dressage World Championship in Herning, Denmark simply sparkled throughout a performance that oozed confidence and pure class as Glamourdale showcased the magnetic quality and extraordinary athleticism that sets him apart from the rest.
At the World Championship they put 90.654 on the board to win the Freestyle, and Fry said she was amazed to do even better than that this evening despite a blip in the one-tempi changes. Her nearest rival was her Herning team-mate Gareth Hughes who produced a lovely test from the mare Classic Briolinca for second place, while Germany's Ingrid Klimke steered Franziskus into third and her compatriot Helen Langehanenberg lined up in fourth with Annabelle.
Perfect start
Tonight got off to the perfect start for the host nation when, second to go, Andrew Gould posted 78.065 for a lovely test from the youngest horse in the class, the nine-year old stallion Indigro whose piaffe/passage work on his debut at this level of the sport was seriously impressive. And the 42-year-old athlete from West Sussex held onto the lead until Hughes set sail with just five left to go.
Hughes' 16-year-old mare, Classic Briolinca, presented a charming picture highlighted by her beautiful balance and tempi-changes that were straight as an arrow. And despite failing to execute her final halt their score of 84.950 gave them a significant lead at this stage. 
Athletes from nine different nations lined out tonight, and 2016 series champion Hans Peter Minderhoud from The Netherlands moved into runner-up spot when posting 79.305 with Glock's Dream Boy when next into the arena. But that would only be temporary as the final three gave the scoreboard another good shake-up.
Fry was third-last to go, and as she said afterwards Glamourdale was more than ready to strut his stuff in front of his adoring audience once again. This was his first big outing since Herning and he wasn't going to waste the opportunity to remind the world just how good he is. He posted a runaway victory in yesterday's Short Grand Prix and he was about to do it all over again. 
Great form
"After last night I could feel he was in great form, he has really strengthened up since Herning and tonight he was so keen that he tried to go into the ring before he was supposed to because he was so excited!" Lottie Fry (GBR)
Showcasing his incredible power and rideability, and his trademark extended canter that is guaranteed to draw gasps from the sidelines every time, Glamourdale pranced his way to the top of the scoreboard and was never going to be challenged.
The crowd were still going wild with delight as Klimke and Franziskus, winners of the third leg of the Western European League on home ground in Stuttgart (GER) last month, prepared to begin and the stallion was on edge because of the noise before starting his test. But the phenomenal German athlete just kicked on to produce a score of 83.170 which would be good enough to slot into third behind Hughes before, last to go, 2013 series champion Langehanenberg put 82.135 on the board to fill fourth place ahead of Minderhoud in fifth and Gould in sixth.
Support
"The support from the crowd tonight was incredible, and to end this amazing year here is wonderful! It is almost impossible to sum up 2022 - it has been incredible and coming to London and performing in front of my home crowd is the best feeling and the best way to end the year!", Fry pointed out. 
Talking about Glamourdale's performance tonight she said "I had such an easy, fun ride. He is better than he was in Herning and we keep improving so I can't wait for the years to come. Paris (Olympic Games 2024) is for sure the goal, and we will see how it goes until then". 
Her compatriot Hughes was quite happy with his runner-up finish. "To come second to the world champion was a win for me, and my horse is amazing!", he said. "I never did indoor competitions with her before because she was very difficult with the atmosphere so we kept her for the Championships, but we thought as she improved this year we'd give it a try after Herning", he explained. That has proven a good decision.
Multiple medallist
As for the super-talented Klimke who is best known as a multiple medallist in the sport of Eventing, she said her result today felt just as good as a win. 
"Being third after these two amazing riders is incredible. I am very proud of my horse tonight, he has improved so much over the last months. It was good to start in Poland (Zakrzow, where she won also with Frankiskus in October) but I did not expect my horse to be so good in Stuttgart and now he is doing it again. I am really pleased!", she said after moving into pole position on the Western European League table ahead of Morgan Barbancon from France in second place and Germany's Benjamin Werndl in third.
Next stop in the 11-leg qualifying series is round six in Mechelen (BEL) on 29 December where today's winner, Fry, is entered with her other top ride, Everdale.
Don't miss a hoofbeat…..
For all the latest information about the FEI Dressage World Cup™ season 2022/2023 check out the new Series Hub here
Stay up to date with results, articles, interviews, videos and much more while following the action all the way to Final.