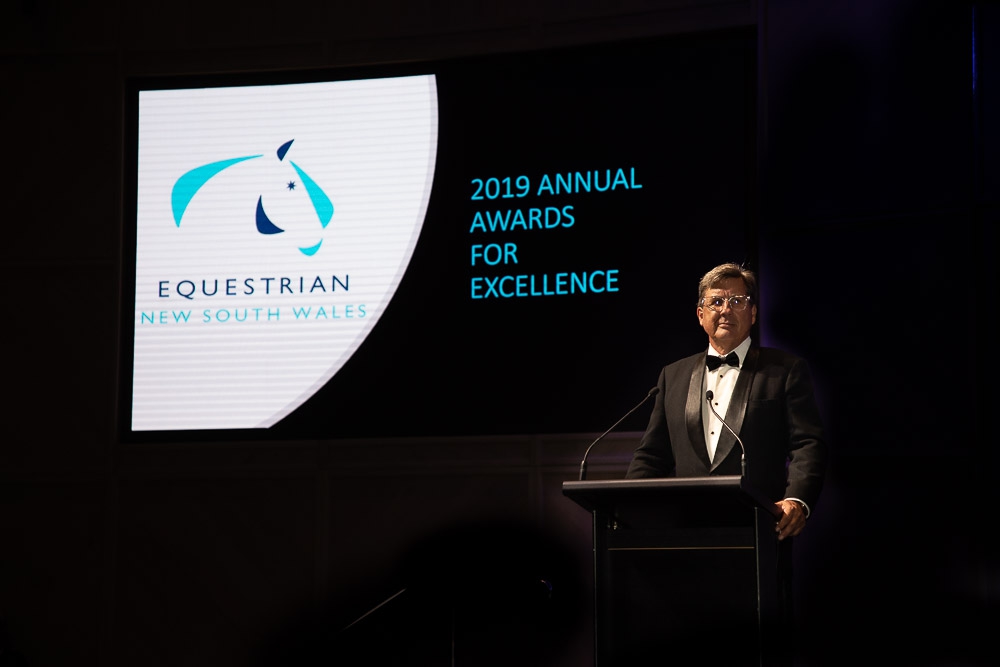 Stephen Mowbray
EQUESTRIAN NSW AWARDS FOR EXCELLENCE - 2019
Equestrian NSW staged our Annual Awards for Excellence at the William Inglis Sales Complex on Saturday 1 Feb 20.  The oppressive heat couldn't take away from the excitement and enjoyment of celebrating the success in 2019 of our champions, both human and equine.
Master of ceremonies and CEO of Equestrian NSW, Bruce Farrar, welcomed the award winners to the stage, to be presented with their trophies by our major sponsors Lisa Oakley (Gow Gates), Gino Gigliotti (Omnistruct) and Jessica Tanner (Agnes Banks Equine Clinic), along with Equestrian NSW Board President, Peter Dingwall, our Sport Council and Committee Chairs, with very special guest Bettina Hoy handing out the Eventing honours.
Dr Derek Major received a Lifetime Achievement Award for his contribution to equestrian as a FEI vet, Equestrian NSW Board Director and President, sponsor and representative on many international forums.  Derek was gracious in his acceptance speech and received a resounding applause from his assembled peers and fellow equestrians.
Congratulations to the award winners and many thanks to our partners who contributed to the night: The William Inglis Hotel (williaminglis.com.au) and Impact Glass Creations (glasscreations.com.au).
Award Winners:
| | |
| --- | --- |
| Eventing |   |
| Eventing Junior Rider of the Year | Matilda McCarroll |
| Eventing Junior Rider and Horse of the Year | Zoe Hutchinson & War Hawk |
| Eventing Senior Rider of the Year | Stuart Tinney |
| Eventing Horse of the Year | BF Valour |
| Dressage |   |
| Dressage Junior Athlete of the Year | Sophie Artup |
| Dressage Young Rider of the Year | Brianna Cartwright |
| Dressage Senior Athlete of the Year | Riley Alexander |
| Dressage Horse of the Year | MI Sirtainly Sir |
| Show Horse |   |
| Show Horse Junior Athlete of the Year | Elizabeth Taylor |
| Show Horse Senior Athlete of the Year | Courtney Larard |
| Show Horse of the Year | Taittinger I |
| Show Hunter of the Year | EBL One Night in Paris |
| Jumping |   |
| Jumping Junior Athlete of the Year | Sally Simmonds |
| Jumping Young Rider of the Year | Amelia Douglass |
| Jumping Senior Athlete of the Year | Tom McDermott |
| Jumping Horse of the Year | Elegance de la Charmille   |
| Driving |   |
| Driving Athlete of the Year |  Sandy Hunter |
| Driving Encouragement Award |  Maria Trott |
| Driving Horse of the Year |  Fiore  |
| Vaulting |   |
| Vaulting Junior Athlete of the Year           | Isabella Napthali |
| Vaulting Young Athlete of the Year           | Elyssa O'Hanlon |
| Vaulting Senior Athlete of the Year | Stephanie Dore |
| Vaulting Horse of the Year | Hunterview Sinatra |
| Interschool |   |
| Interschool Primary Combined Training Champion | Lochie Colquhoun |
| Interschool Secondary Combined Training Champion | Harriet King |
| Interschool Primary Eventing Champion | Harry Warner |
| Interschool Secondary Eventing Champion | Zoe Hutchinson |
| Interschool Primary Dressage Champion | Angelina Thompson |
| Interschool Secondary Dressage Champion | Brooke Ellis |
| Interschool Primary Jumping Champion | Toller Cave |
| Interschool Secondary Jumping Champion | Bella Griffin |
| Interschool Primary Show Horse Champion | Tia Rose McKenzie |
| Interschool Secondary Show Horse Champion | Taylah Hutchinson |
| Interschool Primary Vaulting Champion | Daytona Halloran |
| Interschool Secondary Vaulting Champion | Bronagh Miskelly |
| Interschool Champion Primary Rider | Jett Newman |
| Interschool Champion Secondary Rider | Harriet King |
| Interschool Champion Secondary School | Frensham |
| Interschool Champion Primary School | Wyong Creek Public School |
| Gow Gates Service to Sport |   |
| Eventing | Alexandra Townsend |
| Dressage | Bruce McVey |
| Show Horse | Kerry Patchett |
| Carriage Driving | Judy Meredith |
| Jumping | Annette Maunder |
| Vaulting | Kerrie Stapleton |
| ENSW Awards |   |
| NSW Owner of the Year | The late Carole Mason |
| NSW Groom of the Year | Olivia Daffurn |
| NSW Coach of the Year | David & Tallara Cameron |
| NSW Volunteer of the Year | Rebecca Andrews |
| NSW Official of the Year | Pamela Russell-Green |
| NSW Administrator of the Year | Jessica Meredith |
| NSW Event of the Year | Wallaby Hill International 3DE |
| NSW Club of the Year | Young Dressage Association |