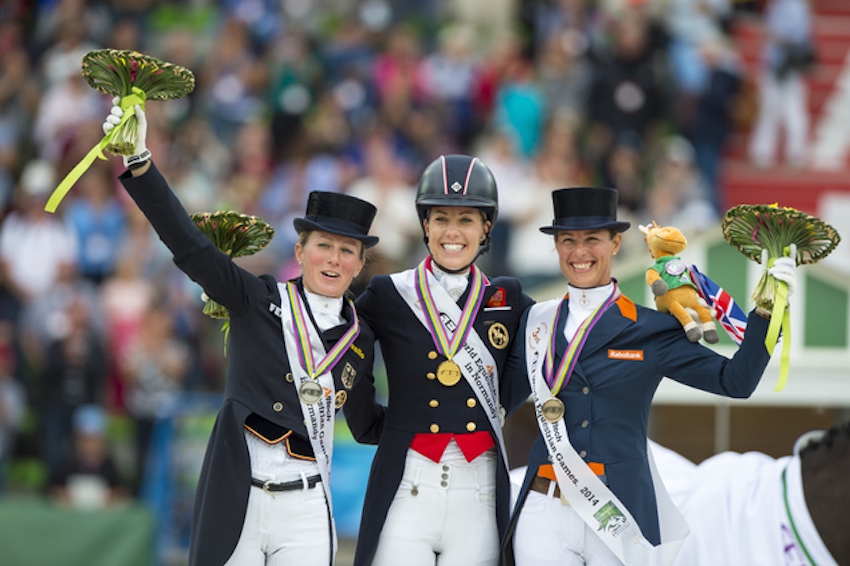 Dirk Caremans/FEI
Dujardin and Valegro weave their magic to win Freestyle Gold
FEI Media Release, by Louise Parkes 
Great Britain's Charlotte Dujardin and Valegro were the stars of the show once again today when collecting their second gold medal of the week in the Dressage Freestyle at the Alltech FEI World Equestrian Games™ in Normandy. The pair now hold the full complement of world Dressage titles, having already strutted to glory at Olympic, European and Reem Acra FEI World Cup™ level during their extraordinary three-year-career together.

Mirroring Wednesday's Grand Prix Special result, it was Germany's Helen Langehanenberg who claimed silver with Damon Hill NRW, but this time around, the Netherlands' Adelinde Cornelissen nudged Germany's Kristina Sprehe off the podium to take the bronze.

"It's absolutely incredible" said Dujardin this evening. "After London (2012 Olympic Games) I didn't think it could get much better, but I took two gold medals at the European Championships last summer and to do this at my first World Equestrian Games is amazing.  Any medal is a great achievement, but two gold and team silver here this week, I couldn't ask for anything more!" the 29-year-old rider said.

Set the pace

Morgan Barbancon was first to go of the 15 qualified for today's Freestyle, and the 22-year-old produced a lovely test to set the pace with Painted Black, one of three 17-year-old horses in the field. The black stallion, formerly competed by Dutch superstar Anky van Grunsven, has established a really nice partnership with the young Spanish rider, and the pair looked relaxed and happy as they racked up the first target mark of 74.393. 

Hans Peter Minderhoud bettered that when posting 75.554, but the Dutch rider wasn't so happy.  "The horse was confused and thought the test was finished halfway through!" he said afterwards. "It was hard to get him to concentrate but he is still young and needs to develop more power and gain more experience. And we mustn't forget he made it into the final 15."

Carl Hester was next in with Nip Tuck, and once again the British veteran produced some wonderful work from the 10-year-old bay gelding who is clearly still on an upward learning curve. "There are still a few technical things that need adjusting, obviously, but he is going to grow up and he is such a big hope!" Hester said after his test. "He doesn't really mind the different situations, the noise and all that. I have a confident horse now. The three extended trots were great, even though they are not his usual highlights. We'll have a tip top programme for next year!" said the horseman extraordinaire after temporarily taking the lead on 76.589.

But his silver medal winning team-mate, Michael Eilberg, quickly took over at the top of the leaderboard when posting 79.696 with Half Moon Delphi. The charming grey mare showed lovely, rhythmical work and increased in confidence every time she entered the arena this week.

Second half evolved 

The lead continued to change hands and the scores continued to rocket upwards as the second half of the competition evolved. Austria's Victoria Max-Theurer and Augustin posted the first score over 80 per cent at 81.036 only for that to be improved upon by one of the most exciting new partnerships in action at these Dressage Championships. 

America's Laura Graves has appeared almost out of nowhere to place herself amongst the elite of the sport this summer, and her success is all the more heart-warming for the fact that she is riding a horse that cost her just €1,000. Hers is a story of deep dedication and a lot of hard work, and once again today the 27-year-old rider and her 12-year-old Dutch gelding were completely at one when throwing down a great mark of 82.036 in just the third Freestyle of their career.

That would prove good enough for fifth place amongst a field of champions. Graves said this evening that her recipe for success is to keep things methodical, and that her result proves  "that just being patient and doing what you know is right can get you to where you want to go!"

Grand Prix Special bronze medallist, Germany's Kristina Sprehe, followed with a superb performance from Desperados FRH who simply sparkled to bring the target mark to 83.125. But two horses later, and with just three left to go, Helen Langehanenberg and Damon Hill NRW raised the stakes even higher with a test that was smooth as silk. 

Primeval roar

The target was now standing at 88.286, but that was never going to faze Dujardin and Valegro, who arrived into the arena to yet another primeval roar from the crowd before setting off to weave their magical spell once more and put the result beyond doubt when posting 92.196.     

It wasn't easy for The Netherlands' Adelinde Cornelissen and Jerich Parzival to follow. But as the Dutch rider said afterwards her wonderful chestnut horse "feels like he's seven years old, not 17. He's amazing and he just keeps doing his best over and over again".  Posting 85.714 the pair easily slotted into bronze behind Langehanenberg, and Cornelissen was filled with emotion because her gelding has returned from ill-health to place himself amongst the best of the best once again at this late stage in his career.  

"A lot of people said his best days were over, but a bronze medal in the World Championships proves that they were wrong!" said Cornelissen this evening. "It's not easy to ride after Charlotte, there was a lot of noise but I thought 'take it easy and just do your own thing'.  Now it is just about keeping him fit and happy and he will still be there for the Olympics (Rio 2016). As long as he still loves the games, we won't be stopping," the Dutch rider said tonight.

And Langehanenberg was also delighted with her result. "This is my first world championships and I'm going home with team gold and two individual silver medals. I'm so proud of Dami, I enjoy him every time I go in the arena and he always does his very best for me. Dami can speak and read. He's more than any other horse. He's just perfect. He had the best character you could have."

Dujardin meanwhile joked that retirement may now be her only option now after taking all the top titles available in the sport.  "I have such a fantastic horse and this week I had some of my very best rides I've ever had in the Grand Prix and the Special. Today I went out there to have fun, it's only the third time we've used this music and I just couldn't be happier!" 

Result:
Freestyle Grand Prix: GOLD - Valegro (Charlotte Dujardin) GBR, 92.161 ; SILVER  - Damon Hill NRW (Helen Langehanenberg), GER 88.286; BRONZE - Jerich Parzival (Adelinde Cornelissen), NED 85.714.

Full results and startlists at www.normandy2014.com

Facts and Figures:


15 horse-and-rider partnerships started in today's Dressage Freestyle.

Great Britain's Charlotte Dujardin and Valegro made it double-gold today when adding the Freestyle title to victory in Wednesday's Grand Prix Special at the Alltech FEI World Equestrian Games™ 2014 in Normandy.

The 29-year-old world no. 1 rider now holds Olympic, European and World titles.

The Freestyle silver medal went to Germany's Helen Langehanenberg with the 14-year-old stallion Damon Hill, and bronze was claimed by The Netherlands' Adelinde Cornelissen riding the 17-year-old Jerich Parzival.

There were two other 17-year-old horses in today's competition: Digby, who finished 13th for Denmark's Nathalie zu Sayn-Wittgenstein, and Painted Black, who slotted into 15th spot with Spain's Morgan Barbancon.

The youngest horse to qualify for today's Freestyle finale was the 10-year-old Dutch gelding Nip Tuck, who finished 12th for Great Britain's Carl Hester. 

The Ground Jury for today's Freestyle was: At H, Liselotte Fore USA; At E, Francis Verbeek NED; At K; Dietrich Plewa GER; At C, Isabelle Judet FRA; At M, Susan Hoevenaars AUS; At B; Elizabeth McMullen CAN; At F, Stephen Clarke GBR.
Quotes:

Kristina Sprehe GER (4th) - "It was really demanding and hard today but he good and relaxed spirit is still there after three days of competition.  This is my first World Championships and I already have two medals so I'm already extremely satisfied!"

Victoria Max-Theurer AUT (6th) - "I think I had three good tests this week.  It's amazing for the horse and for me to be here in this big, full stadium.  I have to say a big thank you to the team and I'm very proud of my horse!"

Carl Hester GBR (12th) - "We almost felt at home in the arena today, it's just rocking and rolling in there!  It shows the popularity of Dressage, and that's what people want.  Yesterday we had an easy day.   I let Nip Tuck relax, but he wanted to work.  He is an absolute worker so I can teach him a lot, but I had to tell him to take it easy yesterday.  I didn't want him to get too tired."  

Charlotte Dujardin GBR (gold) when asked about working with her mentor and trainer Carl Hester - "like every trainer it's frustrating when i make a mistake but he's the best trainer in the world, the opportunities he's given me, well no-one could ask for any more."

Steffen Peters USA (10th) - "Different parts of the test went well and my horse felt more relaxed today so was able to push him a bit more in the extended walk and he went nicely into the piaffe. The one-tempis are always a bit tricky but they went well too event if we made a small mistake I think.  Piaffe/pirouette and piaffe were all planned and I heard the crowd react to it. It's amazing my horse still had so much energy after three days (of competition). We always hope for 80 per cent, but 77 per cent at the WEG is already fantastic."