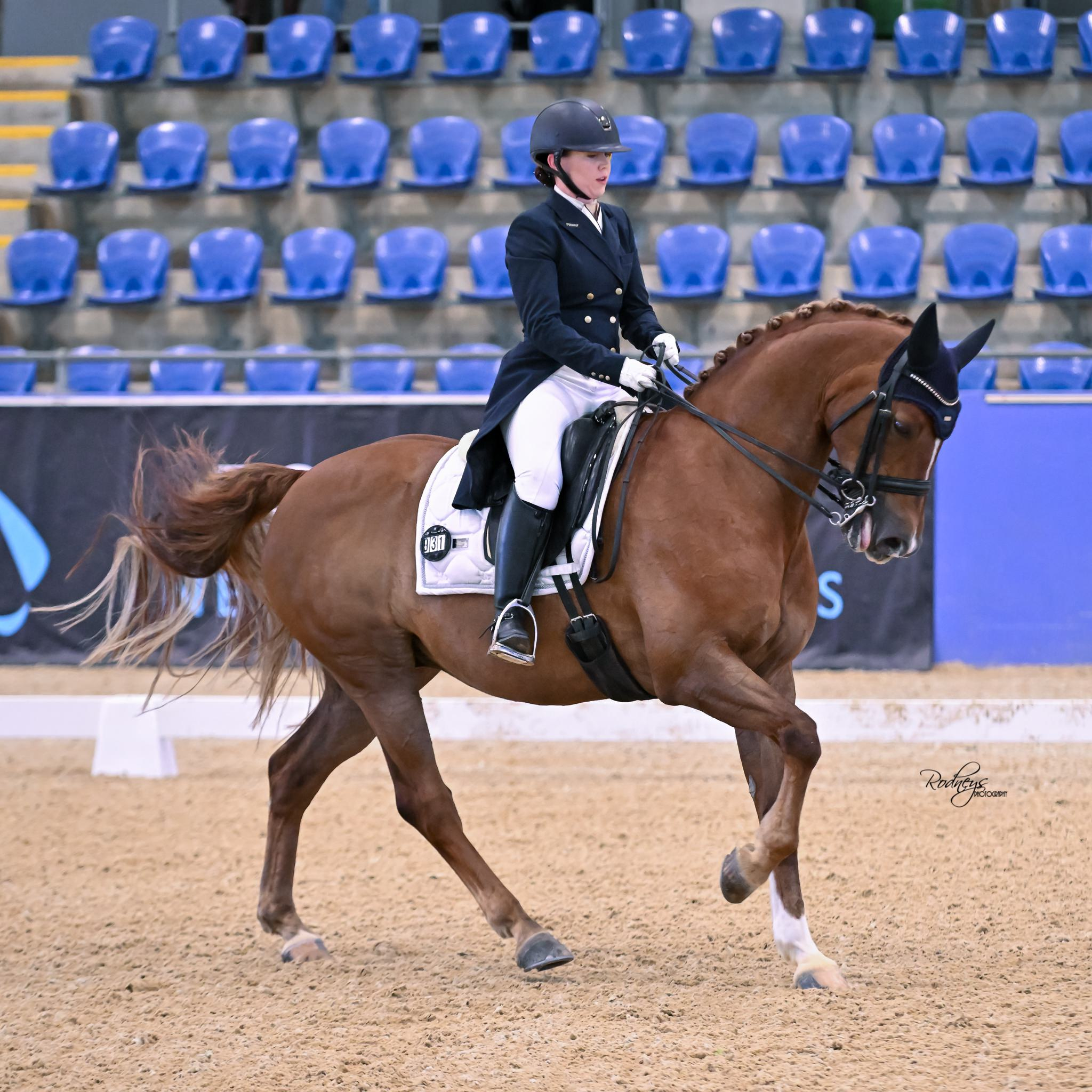 Rodney's Photography
Day two highlights from the AUS AOR Dressage Championships
DAY 2 Highlights 
By Wendy Calabro
As the sun kept shining on the Sydney International Equestrian Centre (SIEC) for day two of the Australian Adult Amateur Dressage Championships, the quality level of competition continued, and a number of Championships were decided. 
The strongly contested Equity Advantage Advanced Championship was the first decided, with Queensland's Vicki Gowland crowned the Champion on her 12 year old mare, Furstin La Joer.  Another Queenslander, Carla Cosgrove, who travelled all the way from Roma, secured the Reserve Champion on Chapplehurst Decamerant. 
In the Kohnke's Own Novice Horse Championship, Courtney Smith from Maddens Plains in NSW, dominated winning both the 2B and 2C tests with scores over 70% securing her the Championship on her impressive 7 year old mare, Hollands Bend Fleur De Lys.  Fiona Williams from Narrabri in north western NSW was Reserve Champion on her gelding, LP Concorde. 
Results of the Novice Pony Championship held yesterday were replicated today in the Preliminary Pony Championship, with the Champion won by Holly Barnes from Barton in the ACT on her Golden Rock mare, Goldfarben, and Jayde Whitehead from Jindera with her gelding, Stop N Stare declared Reserve Champion. 
And once again Holly Barnes continued her winning streak in the Indoor arena in the KC Equestrian Wear Intermediate B on her beautiful 14 year old Regardez Moi mare, Rosabella R, securing her the Medium Tour Championship.  The Reserve Champion was Caroline Balog on her Mayfield Be Brave chestnut gelding. 
The Beth Turner Intermediate I competition rounded off the Small Tour Championship and was, like yesterday's Prix St George,  well supported with high quality entries.  Megan Keir from the ACT was once again the winner on her Quando Quando mare, Revelwood Queens County being declared Small Tour Champion. The very close second place getter by the smallest of margins was again My Rosalee and Ellyn Parker, from northern Queensland securing her the Reserve Championship. 
The final class for day was the Assistance Dogs Australia Grand Prix, which was won by Cathy Chittenden from Falls Creek in NSW on her Sir Donnerhall gelding, Neversfelde Springbok.  Emily James on her Platypus Run Firenz were placed second, following on from their impressive win in the Intermediate II yesterday meaning they were crowned Big Tour Champions.  The Reserve Champion was Helen Macaskill on her gelding, F1 Sonny Bill.
The final day of competition will be held tomorrow.