Franz Venhaus
Day 2 - Bates Grand Prix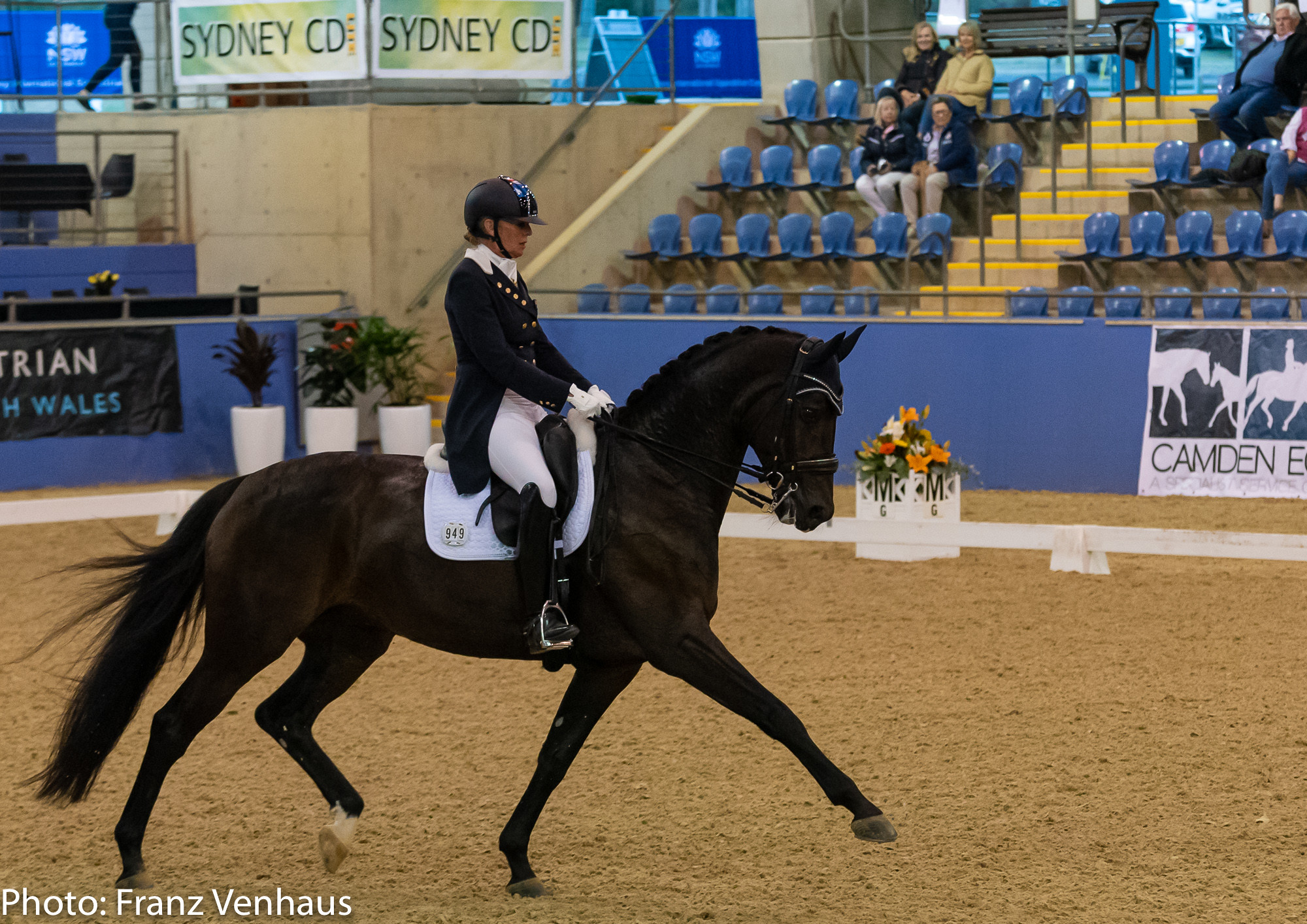 Sydney CDLITE Bates FEI Grand Prix CDN 
By Wendy Calabra
It was a large field of talented horses and riders that contested the Bates FEI Grand Prix CDN this afternoon at the Sydney CDLite.   But it was the beautiful mare, Syriana, ridden by Mary Hanna and owned by Rob and Mary Hanna who won the competition with an expressive, correct and seemingly effortless test.  The elegant, imported 14 year old brown mare by Sir Donnerhall was hard to fault scoring 73.913%. 
The second placegetter was less than 1% away from Syriana and Mary, and in only their third Grand Prix competition together, was Matthew Dowsley and the impressive Santiago.  Santiago is now owned by Emma Weel from Queensland.  Building on their Intermediate II win yesterday, Matthew and the 10 year old Sandro Hit gelding danced their way through another quality test.  What an exciting future this partnership has. 
Mary's other horse in the Grand Prix competition was Calanta, a 13 year old mare by Johnson.  They produced a mistake free test with the piaffe, passage and flying changes being a highlight.  This earned them 3rd place with 72.761%. 
The popular JHT Chemistry and John Thompson filled 4th place with 70.717%.  Another combination relatively new to the Big Tour, Chemistry is only 8 years old and is by Connaisseur.  The young stallion produced some great work with the piaffe a real highlight. 
In 5th place was Michelle Baker and Bradgate Park Puccini who finished 2nd in the Intermediate II yesterday.  Another pair relatively new to this level, Michelle and Puccini produced a harmonious, accurate test earning them 68.587%. 
Lindsey Ware and Aristede, from Victoria, have been very successful in the FEI Under 25 Grand Prix in recent years and having only just graduated into senior competition, they certainly made their mark today securing 6thplace with 68.391%.  Aristede is a 15 year old gelding by Aachimedes. 
Rozzie Ryan and Jarrah R filled 7th place and Diamond Star ridden by Sally Rizzuto and owned by Vicky Newham were in 8th place.  The imported Diamond Star is by Diamond Hit and the regularity in his passage is such a pleasure to watch. 
Mary Warren and Mindarah Park Raphael finished just out of the placings with 67.217% with a polished test, featuring strong piaffe and passage, along with expressive flying changes. 
It was great to see Dirk Dijkstra from Victoria competing with two horses who finished just out of the placings.  The 20 year old stallion, AEA Metallic, and Dirk have had such a long successful partnership and their flying changes continue to be a highlight.  Dirk's other mount, Royalito, is an elegant 14 year old with an expressive trot and changes. 
Always a crowd favourite, the buckskin stallion, Cheval de Luxe produced another correct, harmonious test today, further improving from his strong Intermediate II test yesterday.  Ridden and owned by Sara Price, the imported stallion never fails to impress.
Final placings were: 
1st        Mary Hanna and Syriana                                73.913%
2nd       Matthew Dowsley and Santiago                    73.196%
3rd        Mary Hanna and Calanta                                72.761%
4th        John Thompson and JHT Chemistry               70.717%
5th        Michelle Baker and Bradgate Park Puccini     68.587%
6th        Lindsey Ware and Aristede                             68.391%
7th        Rozzie Ryan and Jarrah R                                67.913%
8th        Sally Rizzuto and Diamond Star                      67.413%