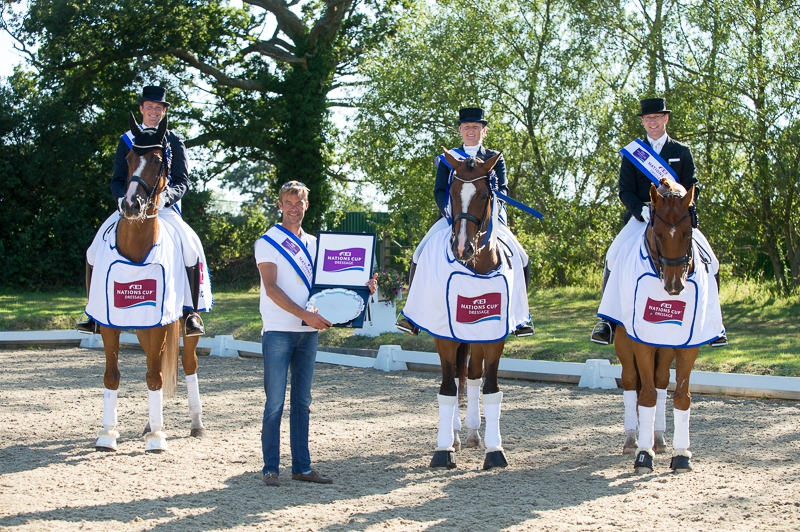 FEI/Jon Stroud)
Danes make it a back-to-back double at Hickstead
FEI Nations Cup™ Dressage 2015 - Round 6
Hickstead (GBR), 19 July 2015
By Louise Parkes
Team Denmark came out on top by a narrow margin at the sixth and last leg of the FEI Nations Cup™ Dressage 2015 pilot series staged at Hickstead, Great Britain today. It was their second successive victory at the British venue, and once again they pinned the host nation into runner-up spot, while Sweden filled third place ahead of South Africa in fourth.
The competition included results from Friday's Grand Prix, Saturday's Grand Prix Special and today's Grand Prix Freestyle. And there was plenty of pressure on the eventual winners as, similarly to last year, the Danes fielded a team of just three horse-and-rider combinations.
With all six legs of the FEI Nations Cup™ Dressage 2015 pilot series now concluded, the provisional results show Germany as the new champions followed by both Sweden and The Netherlands in joint-runner-up spot.
Plenty of interest
The presence of British Dressage superstar, Carl Hester, in Friday's Grand Prix ensured plenty of extra home interest. And the 48-year-old rider didn't disappoint when topping the line-up with a score of 73.160 with Wanadoo on the horse's Grand Prix debut. However they were not part of the British team, so when Anders Dahl and Wie-Atlantico de Ymas slotted into second with 70.700, ahead of fellow-Dane Sidsel Johansen and Alibi D in third with 69.540, then Danish chances were looking very good indeed. 
Best of the British team was Alice Ruth Oppenheimer who filled fourth with Headmore Delegate while team-mates Henriette Andersen (Warlocks Charm) and Hayley Watson-Greaves (Rubins Nite) slotted into sixth and eighth, and although Denmark's Sune Hansen finished down the order in 12th-place with Charmeur, it was clear after the first day that it would be another tough battle between these two strong sides.
Final result
Johansen was the sole Danish representative in Saturday's Grand Prix Special so, despite her victory, Denmark lay last of the four nations going into today's Freestyle which would decide the final result.
Last into the arena this afternoon, Hester once again scooped the individual honours but Dhal's 74.850 was only two marks in arrears for runner-up spot and that was enough to swing the pendulum dramatically in Denmark's favour when Sune Hansen's 70.650 was added as she slotted into eighth place.
Sweden's Malin Halmilton (Fleetwood) and Ebba von Essen (Yantuge) finished third and fifth while Britain' Watson-Greaves and Andersen claimed fourth and sixth places, and the final scoreline showed just a marginal advantage for the winning side. Denmark topped the leaderboard with 140.683 ahead of Great Britain with 139.563 while Sweden's finishing score was 138.932 and South Africa racked up 131.968. The South African side consisted of Katherine Berning (Brisbane), Chere Burger (Adel Prag Anders), Denise Hallion (Wer Vel Wind) and Tanya Seymour (Ramoneur 6).
Winning side
Anders Dahl was the only member of today's Danish team who was also on the 2014 winning side, and once again his contribution was critical. "Last year was the first time we had a team in the Nations Cup here at Hickstead and we won - it's great to win it two years running!" said the 39-year-old who is married to British Dressage rider Fiona Bigwood and lives just a short distance from the Hickstead showgrounds.
"I thought from the start we had a chance, we had good horses and riders and Sidsel (Johansen) went really well all week, winning the Special and third in the Grand Prix. I was also super-happy with Atlantico who was second in the Grand Prix behind Carl, and again today in the Freestyle. This is one of the biggest achievements of his career but we've enjoyed a great year in 2015 - he was great in Doha where we finished third behind Patrik Kittel and Carl", he pointed out.
Talking about the concept of Nations Cup Dressage he continued, "competing as part of a team is special because it brings people a lot closer together and presents another dimension to the sport. When I was in the arena today I knew if I did well and could come as close as possible to first place that our team was in with a big chance. When you're actually riding it's just you and your horse, but before you go in you know what needs to be done and this weekend we had all the pressure because there were only three of us on the team again - and we did it!", he said.
For further information on the FEI Nations Cup™ Dressage 2015 leg at Hickstead, Great Britain check out website www.dressageathickstead.com or contact Press Officer Miles Patience, Email [email protected], Tel +44 7967 008950. 
Result:
1.    Denmark 140.583: Wie-Atlantico de Ymas (Anders Dahl) 145.500, Charmeur (Sune Hansen) 136.430, Alibi D (Sidsel Johansen) 140.069.
2.    Great Britain 139.563: Warlocks Charm (Henriette Andersen) 139.855, Headmore Delegate (Alice Ruth Oppenheimer) 138.895, Rubins Nite (Hayley Watson-Greaves) 139.940, Numberto (Spencer Wilton) 126.106.
3.    Sweden 131.968: Don Corleone (Johanne Due Boje) 128.238, Fleetwood (Malin Hamilton) 141.275, Yantuge (Ebba van Essen) 140.065, Ferdi (Maria von Essen) 135.456.
4.    South Africa 131.968: Brisbane (Katherine Berning) 129.858, Adel Prag Anders (Cherie Burger) 129.709, Wer Vel Wind (Denise Hallion) 130.705, Ramoneur (Tanya Seymour) 135.340.
Full results here 
Facts and Figures:
Hickstead in Great Britain presented the sixth and final leg of the FEI Nations Cup™ Dressage 2015 pilot series.
The competition included results from the Grand Prix, Grand Prix Special and Freestyle.
4 nations competed in this final leg - Great Britain, Denmark, Sweden and South Africa - and Team Denmark came out on top ahead of the host nation, with Sweden finishing third and South Africa in fourth place.
The highest score in today's deciding Freestyle was 76.975 produced by Great Britain's Carl Hester and Wanadoo who were not members of the British team.
Denmark's Anders Dahl finished second on 74.850 with Fleetwood to help secure his country's victory.
Today's Ground Jury consisted of At E: Marietta Almasy FRA: At H: Alain Franqueville FRA; At C: Eddy de Wolff van Westerrode NED: At M, Juan Campos Escriban ESP: At B, Jo Graham GBR.
The provisional results for the FEI Nations Cup™ Dressage 2015 pilot series show Germany taking the title ahead of The Netherlands and Denmark in joint-second place.