Daily wrap up Sydney CDLite-Thursday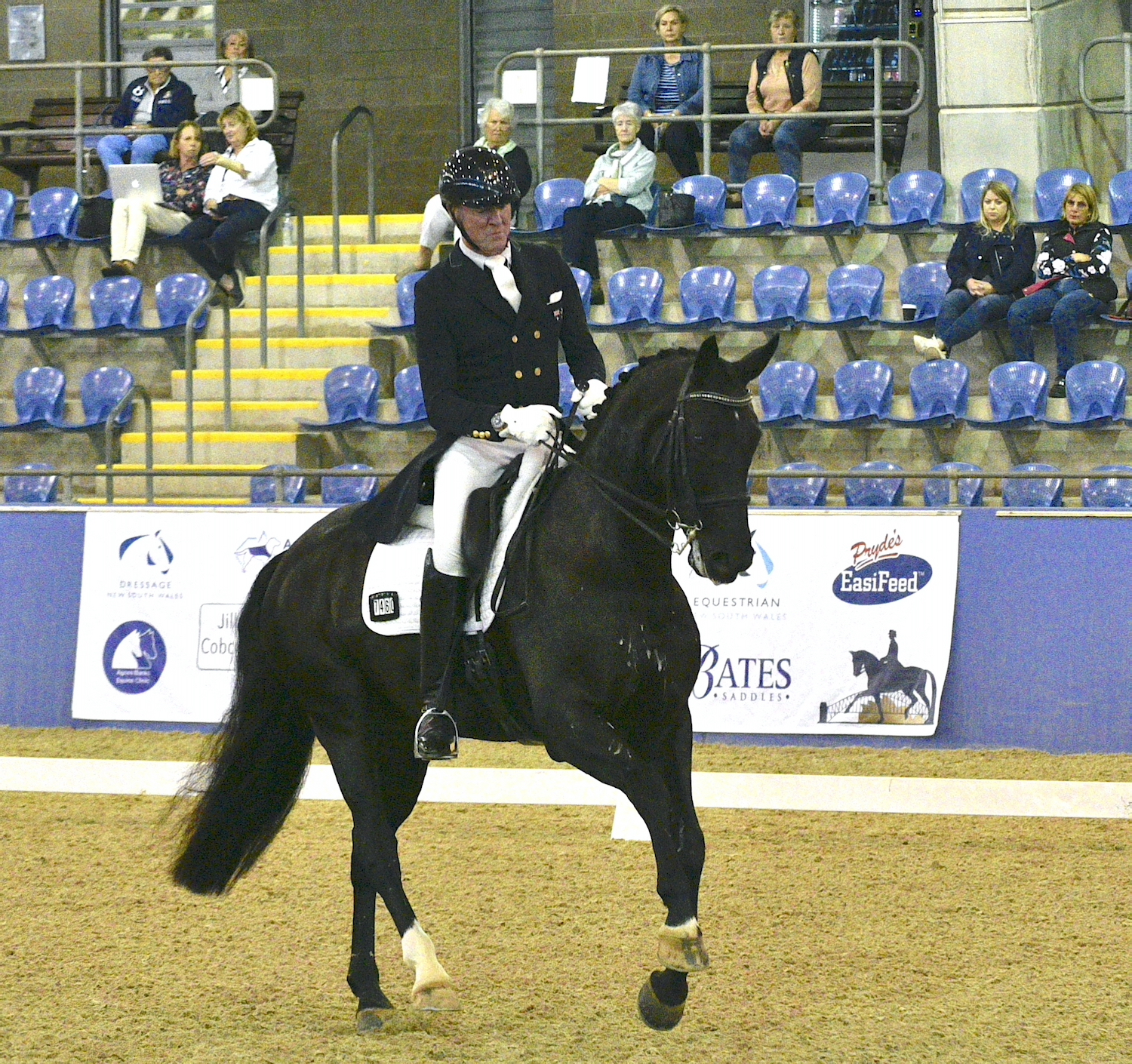 Photo:  Matthew Dowsley on Santiago, photographer, Franz Venhaus
Sydney CDLITE 2021 Pryde's Easifeeds Intermediate II
By Wendy Calabro
After 2 years, what a delight it was to see Cheval de Luxe cantering up centreline as the first horse to commence competition today at the Sydney CDLITE in the Intermediate II.
Ridden by Sara Price, the wonderful buckskin stallion pony opened proceedings with an obedient, harmonious test to score 63.912% and with this they led the competition up until just before the half time break.
That was until Lets Jazzabit, the 9 year old Jazz gelding, and Lizzie Wilson-Fellows put together a honest, accurate test with only a mistake in the 2's to take the lead with 66.588%.
Lizzie didn't hold the lead for long, as Michelle Baker and Bradgate Park Puccini, relatively new at this level scored 67.324% for their tactful, accurate test.  Puccini is a 10 year old gelding by Prestige VDL.
In just their third Inter II as a combination, Matthew Dowsley and Santiago soared into the lead with a quality, mistake free test showing clear transitions, with the piaffe and passage a real highlight.  Their score of 74.735% reflected what a pleasure the test was to watch.
Santiago and Matthew have enjoyed a successful partnership through the levels, and the horse is now owned by Emma Weel from Queensland.  Santiago is a 10 year old gelding by Sandro Hit out of a Fashionista/Florestan mare.
Bec Sellick from WA was the last test of the day, on her Fiderhall, a 10 year old Fidertanz gelding.  It was a well ridden test scoring 64.559% putting her in fourth position overall.
Along with Bec, it was a delight to see other interstate riders from Queensland, Elizabeth Owens on Revelwood Starlite, and Victoria, Natasha Althoff riding Diamond Jive, Cheryl Fort on Rendezvous and Melissa Cannon on PPH Zeppelin.
The final standings were; 
1st        Matthew Dowsley and Santiago                    74.735%
2nd       Michelle Baker and Bradgate Park Puccini     67.324%
3rd        Lizzie Wilson-Fellows and Let's Jazzabit         66.588%
4th        Bec Sellick and Fiderhall                                 64.559%
5th        Sara Price and Cheval de Luxe                        63.912%
6th        Elizabeth Owens and Revelwood Starlite       61.735%
7th        Susan Elekessy and Don Rubin                       61.706%
8th        Sydney Evans and Dara Park Tequila Sunrise 60.500%