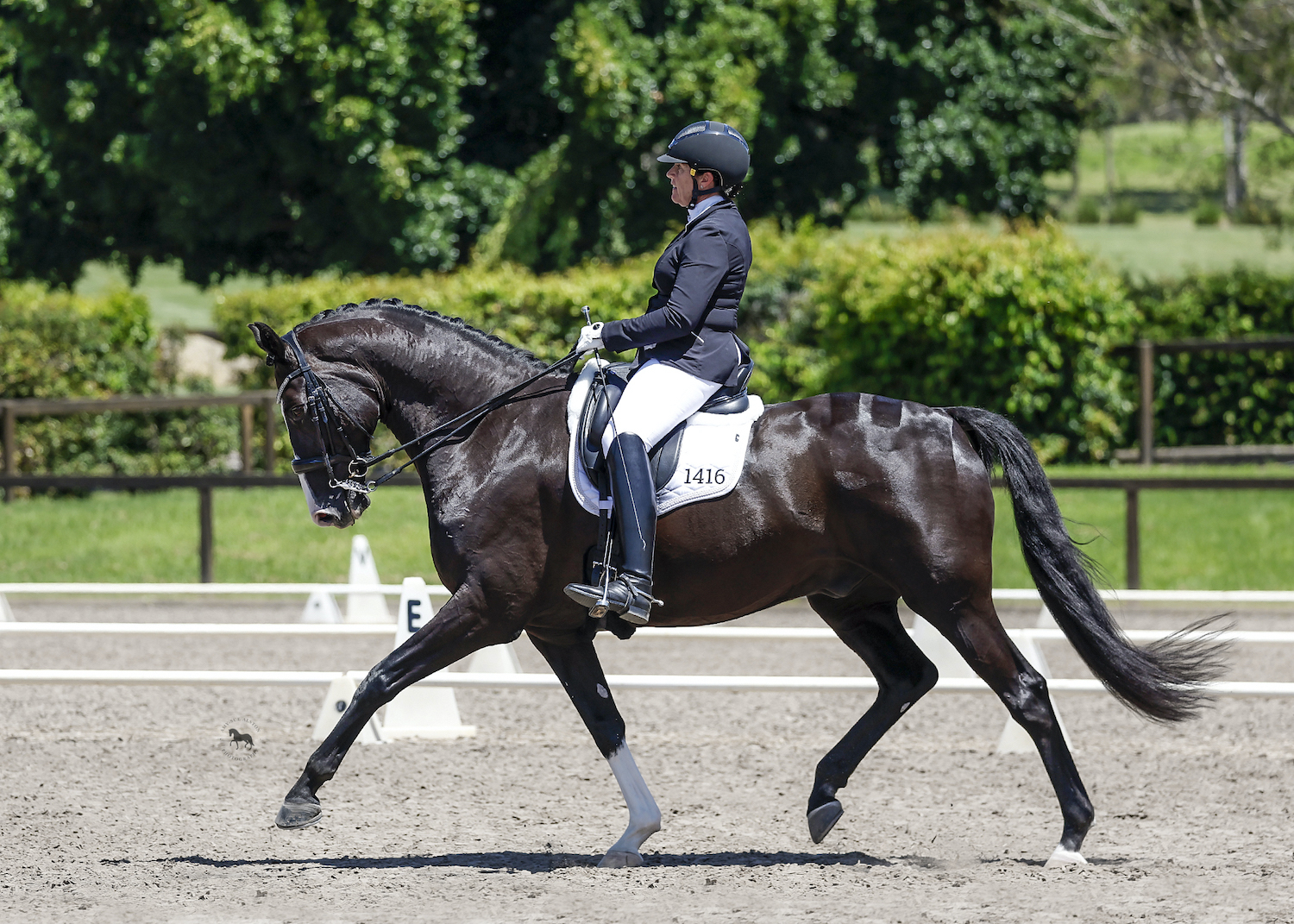 Australian Adult Amateur Dressage Championships 2022
The sun shone brilliantly on the first day of the Australian Adult Amateur Dressage Championships at Sydney International Equestrian Centre (SIEC).  
The Championships opened with a bang this morning with the Performance Horses Medium competition, the most well supported and competitive classes of the Championships.  The quality horse and rider combinations and depth in the fields was evident by the scores in both the 4B and 4C competitions. 
The winner of the 4B class was Nicky Kirkby on her lovely bay Fiji R gelding, Almania Felix.  Nicky comes from flood ravaged Bellata in north western NSW and had to face a huge number of challenges to travel to the Championships.   
The winner of the 4C and winner of the Medium Championship was Sharyn Wyatt from Mount Bruno in Victoria on her 11-year-old mare, Senorita.  The Medium Reserve Champion was also from Victoria, Kathleen Tomkinson-Mullan on her gelding, Sanskrit Park Alliance. 
The Horse First Novice Pony Championship was very closely contested and won by Holly Barnes from Barton in the ACT on her Golden Rock mare, Goldfarben.  The very close runner up was Jayde Whitehead from Jindera with her gelding, Stop N Stare. 
Holly Barnes continued her winning streak in the Indoor arena in the TheAult Intermediate A on her beautiful 14-year-old Regardez Moi mare, Rosabella R.   
The Agnes Banks Equine Clinic Prix St George was another well supported class with a large number of high quality entries and some very impressive scores recorded.  Megan Keir from the ACT was a deserving winner with a consistent test being rewarded with a score of 72.5% on her Quando Quando mare, Revelwood Queens County. The second place getter with a score of 71.961% was My Rosalee and Ellyn Parker, making her long trip from northern Queensland, near Harvey Bay very worthwhile. 
The final class for day was the Pumps and Sprays Intermediate II, which was won by Emily James on her Platypus Run Firenz, a gelding she bred, with an impressive 68.971%.
Story by Wendy Calabro