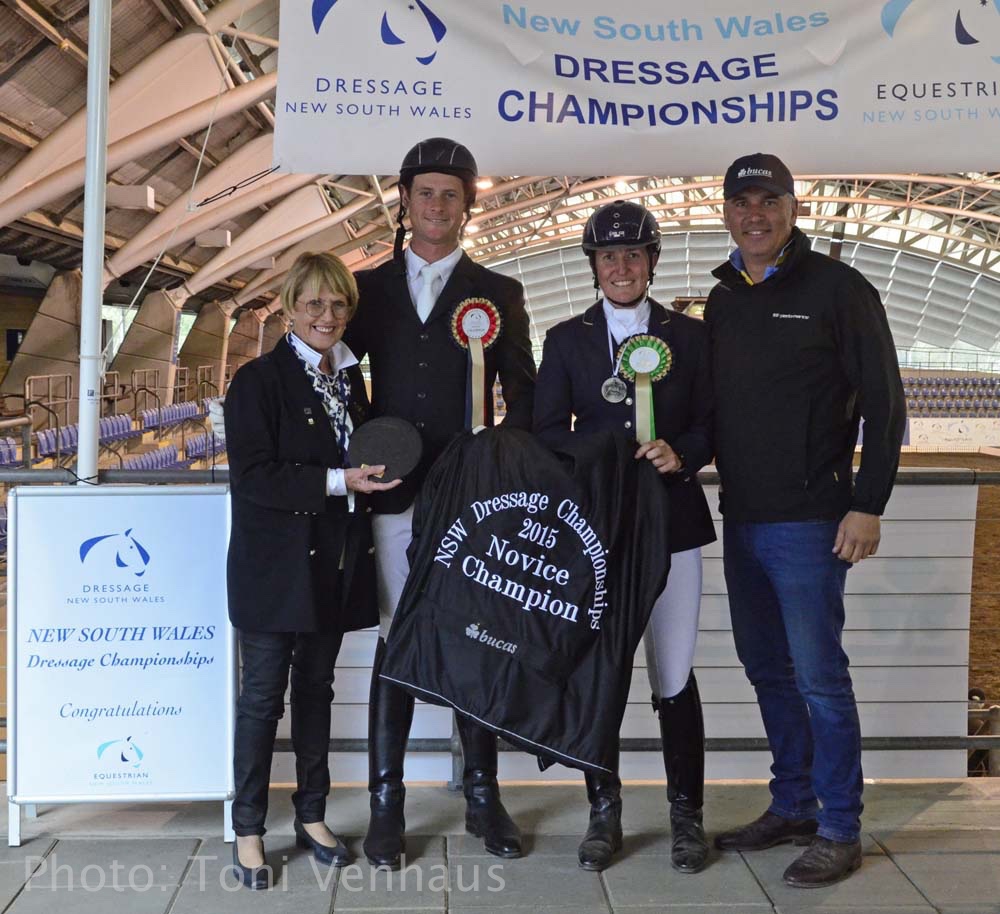 Toni Venhaus
2015 NSW Dressage Championships "a super show"
The 2015 NSW Dressage Championships have been described as one of the best ever, as four days of competition wrapped up at Sydney International Equestrian Centre (SIEC) today. 
More than 200 riders completed in excess of 400 tests across all levels, including grass roots Amateur Owner Riders competing in their own championships for the first time. 
The event was promoted as the "friendly championships", and the atmosphere of the event, though competitive, was just that. 
Dressage NSW president Prue Spurrett said she was very pleased with this year's championships. 
"What more could you ask for – fabulous horses, great weather and a super turn out brought everything together for the 2015 NSW Dressage Championships," she said. 
"Congratulations all round to Helen Lawson, Michelle Becchio and their team for creating a friendly atmosphere for all riders to do their best. 
"Well done to all those who achieved their personal bests and everybody who made it to SIEC."
Some championship results included: 
Open Preliminary Champion: David McKinnon and Woodside Lady Loxley

AOR Preliminary Champion: Sarah Kiem and Glenlyn Regal Grove

Pony Preliminary Champion: Daniella Dierks and Gleisberg Champions League

 

Open Novice Champion: David McKinnon and Daytona Joy

AOR Novice Champion: Tyler Kimber and Kinnordy Gambado

Pony Novice Champion: Robbie Soster and Allengreen Medallist

 

Open Elementary Champion: Michelle Baker and Bradgate Park Puccini

AOR Elementary Champion: Tyler Kimber and Kinnordy Gambado

Pony Elementary Champion: Sara Price and Cheval De Luxe

Open Medium Champion: Daniella Dierks and Solo Feliz

AOR Medium Champion: Helen Lawson and Floryda

Pony Medium Champion: Amanda Shoobridge and Noble Dancer

Open Advanced Champion: Deon Stokes and Don Dancier

AOR Advanced Champion: Sheryl Morsley and Renwood Waratah

Pony Advanced Champion: Rochelle King-Andrews and Riverlands Classique

Open FEI Small Tour Champion: Matthew Dowsley and Adloo Richard

AOR FEI Small Tour Champion: Helen Macaskill and Neversfelde Rupert

Grand Prix Champion: Judith Dierks and Diamond Star