RoseHip Vital 2019 AYDC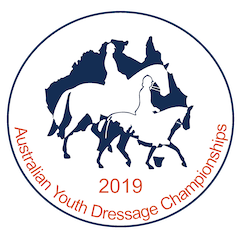 The RoseHip Vital Australian Youth Dressage Championships will be conducted in 2019 by a sub-committee under the umbrella of Dressage NSW.
Date:  5 - 7 July 2019
Venue" Sydney International Equestrian Centre, Horsley Park
RESULTS
SUNDAY 7th July 
Results- Sun 7th July Youth Championships.pdf
CHAMPIONS 
Sunday 7th July 2019 Champions.pdf
SATURDAY 6th July 
Results- Sat 6th July Youth Championships.pdf
CHAMPIONSHIPS 
Saturday 6th July 2019 Champions.pdf
FRIDAY 5th July 
Results- Fri 5th July Youth Championships.pdf
CHAMPIONSHIPS 
Friday 5th July 2019 Champions.pdf
Final Draw 
2019 AYDC Final Draw 4 July 2019.pdf
Freestyle Music Uploads: http://aydc2019.rts-online.com.au/upload.html
Deadline for music upload is midnight Wednesday 3 July
Updated competitor information 
2019 AYDC Updated Competitor info 280619.pdf
Stable/cabin/camping allocations 
2019 AYDC stable_camping_cabin allocations.pdf
Horse Health Declaration Form 
NSW_Horse_Health_Declaration_NSW_AYDC2019.docx
Event Schedule 
2019 NSW YR Ch Schedule.pdf
Acceptance List  
2019 AYDC Acceptance List.pdf
Attention _ Pony Riders
We have received a number of enquiries about splitting competitions for horses/ponies, especially at Elementary level, at the 2019 Australian Youth Dressage Championships.                                    If you have a pony qualified to enter the Elementary, Medium or Advanced Championships you are welcome to submit an Expression of Interest to enter. 
If we receive 6 or more expressions of interest and 6 or more ponies enter any of the Elementary, Medium or Advanced Championship we will split that competition. If we receive less than 6 pony entries those who have expressed interest before close of entries will receive a refund of entry fees if they wish to withdraw on 21 May. The admin fee will not be refunded. Withdrawals after 21 May will be subject to the scratching/withdrawal policy in the event Schedule.
Enquiries and Expressions of Interest  
Event Co-ordinator: Mandy Jones - ph 0415 224 977   email Mandy 

2018 RESULTS:
 2017 Results :